Sizing: Get the Perfect Fit
Selecting the correct size is important. Since each child's foot is unique, no two children will have the same fit for any given shoe size.
Measuring your child's feet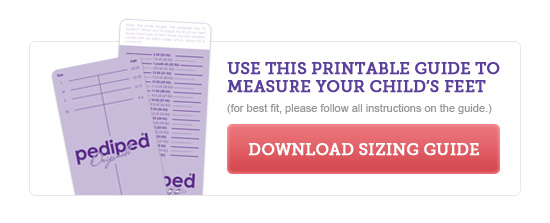 Have you measured your child's feet recently? To make sure shoes are fitted correctly, both feet should be measured every time a new pair of shoes is bought. Ideally, you should visit a children's shoe store that can provide a professional fit your child. However, you can also measure your child's feet from home: simply download and print the sizing guide to the right.
Please follow all printing and measuring instructions on the guide; otherwise you may not get accurate results and the shoes will not fit. Watch our video for a demonstration of how to use the sizing guide. Trouble downloading/printing the guide? Click here.
Trying shoes on
Trying shoes on is the best way to determine correct sizing. Over 2500 pediped® retailers can be found on our store locator. We encourage you to visit one of these retailers for your shoe purchase to ensure you get just the right size. Proper fitting should always be done while standing, since feet spread out in this position. Toes should be able to wiggle quite freely and should not be restricted by the shoe.
More sizing tips
For tips from the American Orthopedic Foot and Ankle Society on selecting the correct shoes for your child, click here. For a tip sheet from the American Podiatric Medical Association on "Back-To-School Shoe Shopping", click here.
Shoe Size Charts
Size/
Approx. Age **
EU
Size
US
Size
UK
Size
Length
(in)*
Length
(cm)*
XS 0 - 6 mos
17 - 18
2.5 - 3.5
1.5 - 2.5
4
10.5
S 6 - 12 mos
19
4 - 4.5
3 - 3.5
4 ½
11.6
M 12 - 18 mos
20
5 - 5.5
4 - 4.5
4 ¾
12.4
L 18 - 24 mos
21
5.5 - 6
4.5 - 5
5 ¼
13.3
EU
SIze
US
Size
UK
Size
Japan
Size
Approx
Ages
19
4 - 4.5
3.5
12.5
9 - 12 mos
20
5
4
13
12-18 mos
21
5.5
4.5
13.5
16 - 20 mos
22
6 - 6.5
5 - 5.5
14
18 - 24 mos
23
7
6
14.5
22 - 36 mos

EU
SIze
US
Size
UK
Size
Japan
Size
20
5
4
13
21
5.5
4.5
13.5
22
6 - 6.5
5 - 5.5
14
23
7
6
14.5
24
7.5 - 8
6.5 - 7
15
25
8.5
7 - 7.5
15.5
26
9 - 9.5
8 - 8.5
16
27
10 - 10.5
9 - 9.5
16.5
28
11 - 11.5
10 - 10.5
17
29
12 - 12.5
11
17.5
30
12.5 - 13
11.5 - 12
18
31
13 - 13.5
12 - 12.5
18.5
32
1 Youth
13 - 13.5
19
33
1.5 - 2
14 - 1 Youth
19.5
34
2.5 - 3
1.5 - 2
20
35
3.5
2.5
20.5
36
4 - 4.5
3 - 3.5
21
Tights and Socks Size Chart
Size/Approx. Age
Height
Weight
Shoe Size
US
EU
in.
cm.
lbs.
kgs.
US
EU
XS
12-24 mo.
12-24 mo.
24-35
60-88
22-28
10-13
3-7
19-23
S
2-4 years
1-3 years
30-40
76-101
24-33
11-15
7-10
23-27
M
4-6 years
3-5 years
32-44
81-111
33-48
15-22
10-13
27-30
L
6-8 years
5-7 years
44-50
111-127
48-60
22-27
13-14
30-36